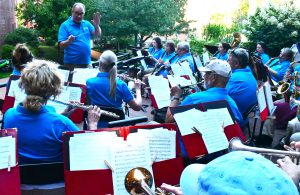 The summer concert season has arrived, and the Maine Pops Concert Band officially begins its 2023-2024 performance schedule with a series of concerts during June, July, and August.
Following a well-attendance performance of their 2023 Spring Concert at Scarborough High School on April 30, the band - which serves the greater Portland metropolitan area - will perform selections used during their 2022-2023 fall and spring concerts, plus one or two extra works for the 2023 summer season. Last year's summer concert series was widely attended by audiences seeking live musical entertainment in their communities. This year, the Maine Pops summer concerts are part of the band's 35th anniversary commemoration.
On Saturday, June 24, the Maine Pops will join 15 other community bands for the return of the annual R.B. Hall Music Festival being hosted this year in Richmond, ME. R.B. Hall was a Maine-born march composer who is honored at the festival – traditionally held annually on the last Saturday in June. The June event marks the first official R.B. Hall Festival since 2019; it was halted for three years due to the coronavirus pandemic.
The Maine Pops Concert Band is scheduled to perform from 1:50 to 2:30 p.m. In addition, some members of the Maine Pops will join musicians of the other bands at 12:30 p.m. for a massed band performance of R.B. Hall marches.
The band's 2023 public performance summer schedule includes four engagements; three in the greater Portland area. Its first community performance is a return visit to Portland's Heseltine Park on Wednesday, July 19, beginning at 6 p.m. On Friday, August 4, the band will travel to Bath, ME to perform at the city's Freedom Park Gazebo at 6:30 p.m. and will follow that performance with a trek to Falmouth's Village Green for a 6:30 p.m. Monday performance on August 7. Their final public summer concert will be Wednesday, August 16 with a 7 p.m. performance at the Village Green in Cape Elizabeth. All public concerts are free to attend, but the band will accept donations to cover administrative costs.
The band is also performing summer concerts at a pair of retirement communities in the Portland region. Concert venues include Portland's Park Danforth community and at 100 State Street. Although these are the only two retirement communities currently on the Maine Pops schedule, other engagements may be added. For more information about dates, time and additions for these retirement community performances, please contact the community retirement centers directly.
The Maine Pops Concert Band encourages musicians of all ages – from school-age to senior citizens, and of all abilities to foster a life-long love of music, music history, performance, and our shared heritage. The band provides opportunities for musicians to enhance their musical skills and knowledge and serve the social welfare of our communities through the study, performance, and presentation of concert band music. The band is currently recruiting musicians from the greater Portland area in its efforts to fill positions in the clarinet, trumpet, trombone, French horn, euphonium, and percussion sections.
Information regarding the summer schedule is available on the Maine Pops website at www.mainepops.org, or through its Facebook page at www.facebook.com/mainepops. For questions regarding the band's summer events, contact president@mainepops.org or sbarrett@mainepops.org.
The Maine Pops is a 501(c)3 educational non-profit corporation. Contributions may be tax-deductible.