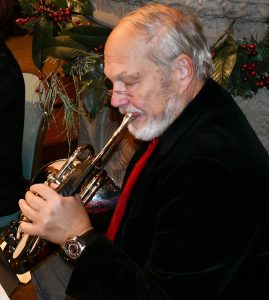 The Maine Pops Concert Band has resumed in-person band rehearsals!  The band will rehearse every Thursday evening in July and August from 6 to 7:30 p.m. at the Falmouth Village Park in Falmouth, Maine.
The sessions are the start of the band's transition back from a virtual performance mode to an in-person concert band schedule. Maine Pops musicians are highly encouraged to take advantage of this nine-week outdoor period to download music, prepare individual instruments, and "work out the performance kinks" as it focuses on a return to indoor rehearsals in September.
Our summer rehearsals are the beginning of the band's 2021-2022 performance season.  Last season, although restricted due to the COVID-19 pandemic, much was accomplished to keep the band's musicians active. The Maine Pops Concert Band  spent the spring of 2021 in virtual rehearsal, releasing five single performances between February and June.  The band also released a Christmas concert in December of 2020 and a conducted weekly online rehearsals to keep musical skills active.
Currently, the Maine Pops is playing over 20 selections; compositions that will be rehearsed during nine-week summer session. Many of these compositions will serve as a starting point for when the band resumes its fall rehearsal schedule on Wednesday evenings at a venue to be determined.
For more information on our continued musical mission, reach out to Bob Swerdlow at president@mainepops.org.
---