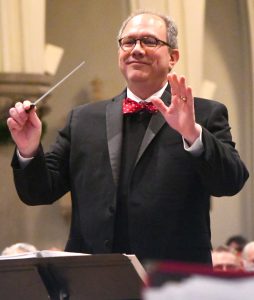 )
David Watts became the Director of the Maine Pops Concert Band in 2017. Now in his seventh season on the Maine Pops podium, Watts leads a music ensemble that has seen tremendous changes in size, musicianship, and versatility.
Under Watts' leadership, the Maine Pops Concert Band has performed numerous fall, holiday, spring and summer concerts in and around the greater Portland metropolitan area. These concerts provide audiences with a variety of musical selections ranging from classical works and marches to classic show tunes and Big Band era compositions.
In 2020 and 2021, Watts was a dedicated leader to continuing musical opportunities to the band's members and directing/producing virtual musical performances as the state makes progress in battling the COVID-19 pandemic. With state health restrictions cancelling most live musical performance in 2020, the Maine Pops – under Watts' guidance and leadership - produced a virtual Christmas concert released on December 20, 2020, featuring four full concert band virtual selections as well as a series of small ensemble performances. This concert not only pulled Maine Pops musicians together following a nine-month layoff, it also allowed the band to fulfill its annual fundraising goals for both St. Luke's Cathedral in Portland and the Mountainside Community Church in Falmouth.
During the spring of 2021, the band conducted weekly on line rehearsals, and released a series of online spring performances to keep musicians playing while entertaining its dedicated audience through the pandemic. The final recording of the season brought in musicians from other Maine community bands for a virtual performance of R.B. Hall's "New Colonial March" to celebrate R.B. Hall Day on June 26. These online sessions also proved to be beneficial to musicians returning to in-person rehearsals in July of 2021.
The band resumed formal rehearsals in the summer of 2021, conducting outdoor sessions in Falmouth and meeting in health-controlled settings through the winter. Public performances under Watts' leadership resumed with the 2021 fall and holiday concerts.
On March 16, 2022, Watts directed the band's return to Scarborough High School to resume Wednesday night rehearsals. Since then, the band's size has increased to approach pre-pandemic membership, and Watts has gradually challenged the membership in selecting a variey of musical selections for perfomrnace as it re-emerged from the pandemic.
In addition to his duties with Maine Pops, Watts is also employed as the Director of Adult and Community Education for the Five Town CSD based in Camden/Rockport, Maine. He also serves as the organist/pianist at South Freeport Congregational Church. About 13 years ago, Watts was invited to take over conducting Chandlers Military Band: the Portland–based band organized in 1833 and believed to be the nation's second oldest professional band in continuous service.
His previous music-related employment includes: instrumental and general music teacher, Freeport High School; choral, instrumental, and general music teacher, Greely Middle School and North Yarmouth Memorial School. Watts was an instrumental and classroom music teacher for the Wilson School District, West Lawn, Pa.; hand-bell choir director, Atonement Lutheran Church, Wyomissing, Pa.; assistant band director, Cinnaminson High School, Cinnaminson, NJ; and partner/composer, Axis Audio, Inc., of Philadelphia.
Born in West Reading, Pa., on May 7, 1961, his instrumental experiences started early, starting piano at age 5, followed by clarinet (age 9), saxophone (age 12), euphonium (14), and pipe organ (17). Watts attended Wilson High School in West Lawn, Pa., completed his bachelor's degree at Philadelphia College of Performing Arts, and a post-graduate certificate at West Chester (PA) University. He has also attended the Appraisal Institute (Chicago), St.Joseph's University (Maine), and Maine Educators Consortium/Endicott College. Watts earned his bachelor degree in Music Composition and Music Education, and completed master's level studies in several subject areas: music theory, educational leadership, commercial real estate valuation and consulting, commercial real estate management and leasing, finance, and adult education.
Watts served as Treasurer of the Maine Music Educators Association from 2008 to 2015, and toured as a singer/pianist, both as a soloist and with his own group, doing both covers and originals. He toured from 1985 - 1989, and regionally from 1990 – 2003. During and after college, he arranged music and wrote drill for several high school bands in New Jersey and central and eastern Pennsylvania.
David is married and his wife, Tracy, works for Maine Medical Center as an oncology nurse navigator. The couple have three daughters: Bethany, Sarah, and Olivia.