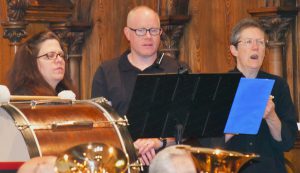 SCHEDULE A CONCERT
After a successful 2023 summer concert series and an increase in its musical membership, the Maine Pops Concert Band has firmly reestablished itself as vital community asset for public and private community concerts serving the Greater Portland area. After completing its 2023 holiday schedule on December 20, the Maine Pops Concert Band will begin its focus for its 2024 Spring Concert on April 28, and another busy summer of music performance.
Even with COVID-19 still impacting safety and health issues in Maine, the Maine Pops Concert Band is committed to making regular performances at festivals, special events, and community activities this coming spring and summer.
Communities and organizations looking to schedule the Maine Pops at an open public or private community event are encouraged to contact the band president at president@mainepops.org.
For more information, please contact the president.
JOIN THE BAND
How to Join
CONTACT INFORMATION
President
Bob Swerdlow
president@mainepops.org