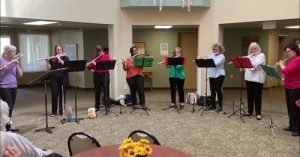 The Maine Pops Flute Choir - an element of the Maine Pops Concert Band - performed a concert for residents of The Woods at Canco in Portland, ME on April 15.
The flute choir, led by the band's Patty Lawson, is comprised of flautists from the Maine Pops and was first organized in late 2022. Its first performances were during the band's Christmas benefit concerts in 2022. The ensemble performs at various community events throughout the greater Portland area to support the band and promote music in the community.
A segment of the performance - Ashokan Farewell by American folk composer Jay Ungar - was the final composition of their concert and is viewable at https://www.youtube.com/watch?v=xyPwm5RI0gE
For more information about requesting the flute choir for a performance, please contact band president Bob Swerdlow at president@mainepops.org.