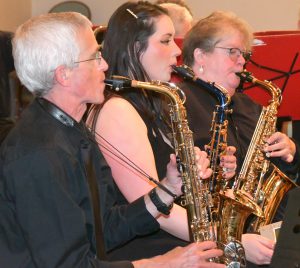 The coral anniversary (35 years) is a significant landmark between the silver and golden anniversaries. In Native American culture, coral is said to be a symbol of protection, having magical attributions against disease and danger. Coral is also considered an aid to bringing good luck and fortune. It signifies the importance of family and community, while encouraging people to enjoy life, have fun, and overcome challenges and obstacles. Coral represents a reminder to stay positive and never give up on our dreams.
Sounds like a perfect theme to represent what the Maine Pops Concert Band plans to celebrate 35 years in 2023. The band has protected itself well from the COVID-19 pandemic and overcome the pandemic challenges. It takes pride in promoting community importance to the band's mission of "Building Community through Music," and it provides band members the chance for our musicians to enjoy life, have fun and continue our musical dreams through performance.
In celebration of their 35th anniversary, the Maine Pops will conduct the first of two 35th anniversary concerts on Sunday, April 30, beginning at 2:30 p.m. at the Winslow Homer Center for the Arts in Scarborough, Maine. The Winslow Homer Center is located inside Scarborough High School, located at 11 Municipal Drive. It's the band's first auditorium performance since November of 2019, and its first concert in Scarborough since 2018!
For followers of the Maine Pops Concert Band who are not able to attend the spring concert, the band is live streaming the performance through Facebook. The link to the performance will be: https://www.facebook.com/mainepops.
"This 35th Anniversary Year has given me an opportunity to dig even deeper into the band's past," said Maine Pops Director David Watts. "Our concerts will offer highlights of concerts over the past three and half decades but as my heart always does, I've chosen pieces that are new for our members and audiences that will continue to push our boundaries." Watts added that Maine POPS at 35 shows "...what the band has achieved, what we are achieving, and what we are capable of achieving as we look forward to the next 35 years."
A second 35th anniversary performance is planned for the band's fall concert in November.
Formed as the Italian Heritage Band in 1988, the ensemble was renamed as the Maine Pops Concert Band in 2016. The band provides community service to the Greater Portland area, reaching out to its audiences at performances throughout the year.
"It's the best of 35 years of outstanding concert music, performed by one of Maine premier concert bands," said Robert Swerdlow, president of the Maine Pops. The band continues to return toward pre-pandemic numbers, with Swerdlow saying it now has 70 players strong.
To commemorate the band's past and present, Maine Pops Concert Band Director David Watts selected a variety of compositions for the spring concert. Some selections were chosen as a reflection of music performed in the past by both the Italian Heritage Band and the Maine Pops. He's combined those selections with some newly acquired compositions; all to provide a wide variety of music for attendees of all ages.
Featured tunes include Hans Zimmer's "Pirates of the Caribbean: At World's End", Carl Orff's "Carmina Burana," Luigi Denza's "Funiculi Funicula," a Sammy Nestico arrangement of "Maleguena," and Modest Mussorgsky's finale from "Pictures at an Exhibition." Also slated are works by John Philip Sousa, native Maine march composer R. B. Hall, Percy Grainger and more. "If you ever played in a community or school band or had a kid in one," said Swerdlow, "this concert is sure to inspire, entertain and delight!"
A suggested donation of $15 per person is being accepted at the door. No donations are required for students attending the concert. Donations are accepted to help with the band's administrative costs.
Maine Pops continues to recruit musicians.
As the band continues its final preparations, its members know they also have large summer concert schedule in and around the Greater Portland area. The band has already accepted numerous public and private requests for summer performances, and will perform music from both the 2022 fall concert and its 2023 spring performances.
To meet those requirements and to build for our 2023 fall concert, the Maine Pops continues to recruit local musicians to fill its ranks. The band has a critical need for clarinet, trumpet, trombone, French horn, and percussion performers to meet the bands increasing performance schedule and repertoire.
All musicians within the Maine Pops are community volunteers with a love and desire for concert band performance can join; we are looking for musicians of all ages to join our ranks. Musicians are not required to audition, but they must have a concert band instrument, be able to read music and meet current COVID-19 vaccination requirements.
Musicians interested in joining the Maine Pops, can contact band president Bob Swerdlow at president@mainepops.org for more information.
The Maine Pops is a 501(c)3 educational non-profit corporation. Contributions may be tax-deductible.