The Portland-based Maine Pops Concert Band will again collaborate with two area churches in holiday fundraising efforts, performing a pair of Christmas Concerts to celebrate the holiday season and close out their 2022 performance schedule.
Fresh off their successful fall concert held November 20, the 60-member community band has spent three weeks rehearsing 13 holiday-focused compositions. These selections will offer a wide variety of music ranging from "Feliz Navidad" and "A Charlie Brown Christmas" to "Greensleeves and "The Holly and the Ivy."
And yes…the band will again perform Leroy Anderson's holiday classic, "Sleigh Ride."
The first of the two benefit concerts will be held Sunday, December 11, beginning at 2:30 p.m. at St. Luke's Cathedral, located at 143 State Street in Portland. This concert continues a long-standing Maine Pops tradition of holiday fundraising with St. Luke's.
"These are challenging times for all food pantries," said Mary Brighthaupt, Executive Director of St. Luke's Food Pantry - the primary focus of the concert's fundraising effort this year. She said that throughout the year, the pantry supports nearly 600 families and has been a reliable neighborhood resource for decades. "Many are new Mainers with multiple challenges such as language, housing, and transportation. The support of Maine Pops allows us to meet these challenges."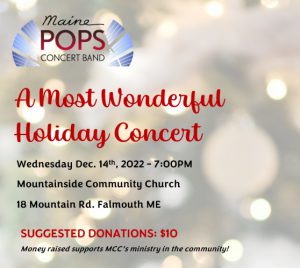 Three days later, the Maine Pops will return to the Mountainside Community Church, located at 18 Mountain Road in Falmouth, on December 14 for a 7 p.m. concert. Like with St. Luke's, the Maine Pops has a long-standing relationship with the Mountainside church.
Diane Ray, the wife of Mountainside Community Church pastor Mac Ray and a member of the Maine Pops, said Mountainside is dedicating much of the concert collections to purchasing a wheelchair for a young man with special needs who needs a replacement chair. Additional money will also go into supplementing Mountainside's homeless ministry efforts.
The Maine Pops will take a holiday break following the December 14 performance, and begin work on their spring and summer performance season on January 11 at Scarborough High School from 7 to 9 p.m. The band is slated to perform a 2:30 p.m. spring concert on April 30, and the band is recruiting for new musicians. The Maine Pops is in need for clarinet, oboe, trumpet, French horn, and percussion players, but is open to accepting all concert band musicians.
If interested in joining the band, please send a note to president@mainepops.org to apply.
The Maine Pops Concert Band is a 501(c)3 educational non-profit corporation. Contributions may be tax-deductible.