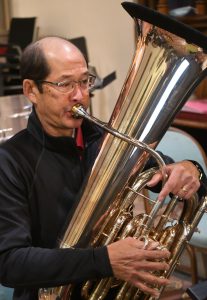 The Maine Pops Concert Band will conduct its first spring concert since April of 2019 when it performs Sunday, May 22 at St. Luke's Cathedral in Portland, beginning at 2:30 p.m. The theme of concert is "Coast-to Coast: A Musical Road Trip," and will consist of eight concert band selections spanning a variety of music genre.
Compositions will include R. Vaughan Williams' "Folk Song Suite for Military Band," "Mambo" from Leonard Bernstein's "West Side Story," Vaclac Nelhybel's "Festivo," and Genaro Codina's "Zacatecas" march. Also on the program are two medleys: Joe Derhake's arrangement "Coast to Coast" featuring musical selections tied to a selection of American cities, and Jerry Brubaker's medley arrangement of "Hamilton." Duke Ellington's "Caravan" and Samuel Hazo's "In Heaven's Air" complete the concert music selection.
"I'm excited to share some new arrangements of old songs, plus some wonderful classic band repertoire spanning a period of over 100 years," said Maine Pops Concert Band Director David Watts. "This 'musical road trip' will take us from coast to coast throughout North America and across the big pond. The band has worked exceptionally hard this winter and spring in preparation for, what I feel will be, a very entertaining concert."
Since COVID-19 sanctions eased, the Maine Pops has performed three concerts during the fall 2021 season in the Portland area. However, the last spring concert performed was held April 28, 2019, at Cape Elizabeth High School.
It's been a condensed rehearsal schedule for the Maine Pops as the Omicron variant to COVID-19 delayed the start of the spring season. Rehearsal sessions resumed two months late, with the March 2 session at Mountainside Community Church in West Falmouth being the first. Two weeks later -- on March 16 -- the band received clearance to return to Scarborough High School – its rehearsal home prior to the pandemic.
St. Luke's Cathedral is located at 143 State Street in Portland. The concert is open to the public and the band is asking patrons for a donation of $10 per person that will benefit St. Luke's humanitarian efforts. According to the cathedral's web site, mask-wearing is no longer required for worship or other activities at St. Luke's. However, the cathedral staff asks that patrons please respect parishioners who wish to wear masks and join their commitment to welcome people to the cathedral.
Established in 1988, the Maine Pops Concert Band is a non-profit community group that encourages musicians of all ages and abilities – from school age to senior citizens – to foster a life-long love of music, music history, performance, and heritage.
For more information about joining, contributing, or sponsoring the Maine Pops Concert Band, please visit www.mainepops.org.