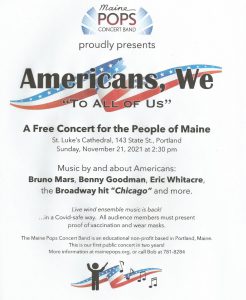 The Maine Pops Concert Band returns to the performance stage for the first time since December 2019 when it performs November 21 at St. Luke's Cathedral, located at 143 State Street in Portland, beginning at 2:30 p.m.
Under the direction of David Watts, the 60-member community concert band will perform nine compositions, including John Williams' "Star Wars: The Rise of Skywalker," Eric Whitacre's "Sleep," a medley of hits from Benny Goodman, Bruno Mars, and the musical "Chicago," and Toto's "Africa."
Admission to this concert is free to the public, but the band will accept donations to help with expenses, part of its recovery efforts following a 17-month in-person layoff due to the coronavirus pandemic.
In compliance with St Luke's health and safety requirements, the church will require concert attendees to show proof of COVID-19 vaccination and patrons will be asked to mask while inside St. Luke's for the performance.