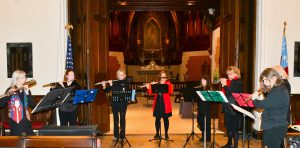 In addition to performing as a full wind ensemble for seasonal and holiday concerts, the Maine Pops Concert Band has begun expanding its mission to conduct small ensemble performances to serve our regional area. These ensembles not only provide outreach opportunities to connect with various civic, educational, and religious groups, but also provides musical opportunities to Maine Pops musicians looking to build cohesiveness within their sections and expand on their performance experiences beyond the concert hall.
Currently the Maine Pops Concert Band has two small ensembles providing entertainment opportunities to local groups: the Maine Pops Woodwind Quintet and the Maine Pops Flute Choir. The band may form other ensembles in the future. The Maine Pops Concert Band ensembles do not charge a performance fee but do accept voluntary donations to help in the funding and acquisition of music to update and expand the small ensemble library.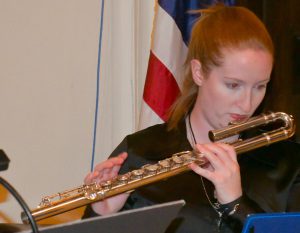 The Maine Pops Flute Choir
Formed in October of 2022, the Maine Pops Flute Choir consists of up to eleven flautists who made their performance debut during the band's December 2022 holiday benefit concerts at St. Luke's Cathedral in Portland and at Mountainside Community Church in West Falmouth. The choir uses a variety of flutes – concert flute, piccolo, alto flute, and bass flute – to perform classical, contemporary, and religious works written specifically for flute ensemble. In its first six months, the flute choir has performed at retirement homes and during church services in the Portland area.
The Maine Pops Woodwind Quintet
In January 2023, some of the principal players in the Maine Pops formed a woodwind quintet of flute, oboe, clarinet, French horn, and bassoon. The quintet began playing at retirement communities that same month. The repertoire ranges from classical music by Barthe, Colomer, and Faure, to popular tunes including The Wizard of Oz, Teddy Bears' Picnic, the Beatles' When I'm Sixty-Four, and some original compositions. It is fun to hear the different sounds of the instruments, working together or playing off each other, creating a special musical experience that surprises and delights.
Organizations looking to request a Maine Pops Concert Band musical ensemble should contact president@mainepops.org.